Sometimes we get comfortable and then it creeps in…
Sooooooo… it's back to school time and my kids have been begging for yogurt and granola. We don't buy yogurt all that often at my house because my children have mild dairy allergies, it's fairly processed and frankly, the coconut yogurt that we buy is $2 per container. Not I'm not a cheap shopper, I buy mostly organic, whole foods, but $2 for one teeny, tiny yogurt pushes me over the edge sometimes! Ugh! #whydothingscostsomuch
And… since we eat a pretty clean diet most of the time, I don't often look at labels because I have been doing this for so long, that I have gotten pretty comfortable with what I buy…ummm…not good!
Well – on the first day of school I just so happen to read the sugar content of my child's organic, non-GMO verified, dairy free, nut free, vegan $2 coconut yogurt and I nearly fell over!!
19 whopping grams of sugar!!!
What.The.Hula?!
Come again, Mr. organic, non-GMO verified, dairy free, gluten free, nut free, vegan coconut yogurt that I buy the vanilla flavor because it MUST have waaaay less sugar than the fruit on the bottom flavored ones, that costs $2 per carton and therefore must be good for my kids, right?
Dude…
Are.you.kidding.me?!
Two of my children should only be eating about 12 grams of sugar for the whole.entire.day.
Can I say it again…
What.The.Hula!?
Dude…this is no bueno…
Side note – if you want to know how much sugar your kids should be eating, you can read more about it here.
We always have to be vigilant and we always have to remember that just because it's organic doesn't mean it's good for you. We all fall into the "comfortable" trap from time to time – it happens – it's all good, we just take the lesson as it comes, learn what we learn and move on.
Which brings me back to the original subject at hand, granola… I'll get there, I promise.
After looking at all the yogurts, I found that the "unsweetened vanilla" actually has only 1 loving gram of sugar!
Only problem being that with my kids pallets being use to 19 grams of sugar, the 1 gram of sugar flavor was not their favorite. Luckily I had some store-bought granola that they mixed in that sweetened the deal.
Life was good in the Neuner house for one whopping day while we were all happily eating our unsweetened vanilla yogurt with our nut filled granola, until… (cue the "dun-da-nuh-nuh")…the kids came home from school…
Where we discovered that two of my three kids have friends with nut allergies in their classes.
Motherhood is not about being perfect, it's about picking your battles. Do what you can with what you know at the time.
Click To Tweet
Now don't get me wrong, I am uber grateful that my children only have autoimmune diseases that are 100% treatable by diet (no anaphylaxis in our house). And I try my best to be uber conscious of my kids eating foods that other children are allergic to (since we have allergies – I kind of lump all allergic kids into the same unspoken posse where we all protect one another).
Which (FINALLY) leads me to the following…my kids are on a yogurt kick and they will only eat the unsweetened vanilla with one gram of sugar if it's accompanied by the nut-infested granola!
So… that means it's time for mama to get into her magic cooking groove and whip up some gluten free, nut free, dairy free granola!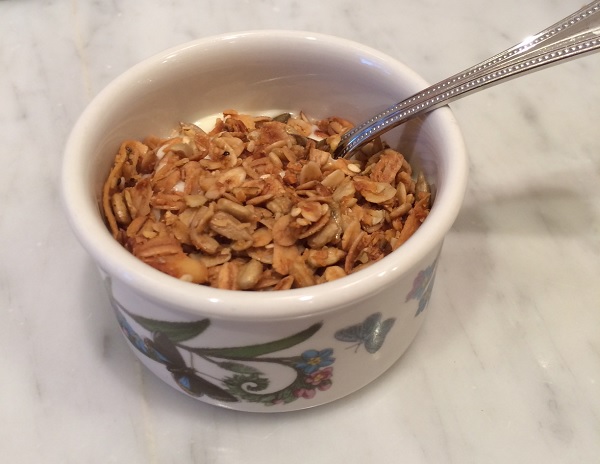 I already had a basic granola recipe that we love, so I swapped the nuts for seeds and it worked out perfectly! It was simple, fast and the kids loved it!
Once again, peace is restored to the Neuner household – the yogurt-fest continues and the nut-allergic kids are safe – a win-win if you ask me!
*Mama note, yes, I 100% understand that the granola that I am making contains sugar, however, it is filled with seeds and grains and superfoods which are packed with vitamins and minerals and protein. My granola also contains "healthier" sweeteners where I can choose all of the ingredients. And when you can control what goes into the food, you always have the upperhand.
You can do this mama and I'm here to help!
You can click here to read the granola recipe.
Now you – find any shocking ingredients lately? Lemme know in the comments below – I love learning from other mamas.
xo,