If you are looking for a light, yummy recipe to make this thanksgiving – look no further my friend!
This recipe is AMAZING!!! It has all the amazing flavors of thanksgiving, but with a fresh, light, crispy feeling.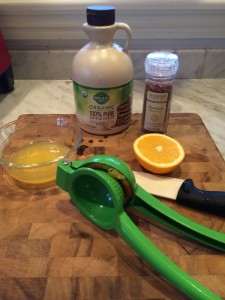 Every time I bring this to a party the bowl is always empty (sometimes before I even get a chance to eat it!). You seriously can't go wrong!
This recipe is an adaptation from my raw foods instructor, Elizabeth Fraser, of Girl Gone Raw. For those of you who don't know I am a certified raw food chef and while I am not 100% raw by any means, I love the food and feel amazing when I eat raw and still incorporate a lot of raw foods in my families diet.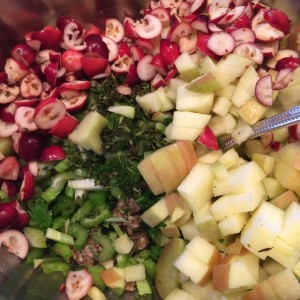 Elizabeth introduced the recipe to me as "raw stuffing" and the first time I tried it I was in heaven! Knowing that I wanted to bring it to my family's thanksgiving celebration, I knew that if I called it "raw stuffing" no one would eat it, I decided to call it "thanksgiving salad" and the bowl was gone before I knew it!
Over the years I have made some tweaks to Elizabeth's original recipe , but I still give her the credit, as I would never have my beloved "Thanksgiving salad" without her!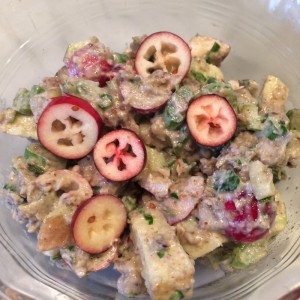 Thanksgiving Salad
2015-11-20 19:00:19
Ingredients
½ cup sunflower seeds
½ cup walnuts
½ cup pecans
6 celery stalks (chopped)
1 cup fresh cranberries (chopped)
3 medium apples (diced)
juice from 1 orange (more if needed)
juice of ½ lime
3 tbsp maple syrup
1 ½ tsp sea salt
2 tsp fresh rosemary
2 tsp fresh thyme
2 tsp fresh parsley
Instructions
1. Place all nuts in food processor until a chunky flour forms.
2. Chop celery, cranberries & apples and place in large bowl.
3. Mince rosemary, thyme and parsley and add to bowl with celery, cranberries and apples.
4. Add nut mixture to chopped produce and mix together until combined.
5. Add juice of orange, maple syrup and salt to mixture and stir until evenly coated.
6. Add salt and pepper to taste.
7. Enjoy!
8. Lasts refrigerated several days.
Notes
*If bringing elsewhere to serve, I recommend bringing it in 3 separate containers (nut mixture, chopped ingredients, wet ingredients) and combine right before serving. It will taste fine either way but looks so pretty when made fresh!
Adapted from Elizabeth Fraser, of Girl Gone Raw's Holiday Stuffing
Christina Neuner https://www.christinaneuner.com/