Meet Christina
Ladies, if it has to do with food, I can help.
It's 4:30 (again) and you have no idea what to cook for dinner.
Embarrassed, when another mom asks what you made for dinner last night, because it was cereal, again.
Desperate to feed your family healthy meals, but you're:
exhausted, frustrated, confused, (insert issue here) and don't even know where to start?
I know
You're so sick of everyone talking about healthy eating, and the latest diet, and the latest study…
I know
I mean, Paleo? Caveman? No-sugar, low-sugar, raw foods (what is that?), vegetarian, vegan, pescatarian, fruitarian (is there really such a thing?), low carb, no carb – ahhhhhhhhhhh!
Well stop stressin' sista, cause I'm here now!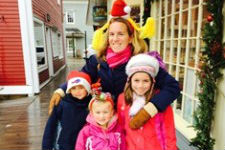 I'm Christina Neuner and it's my passion to help busy mamas stop feeling guilty and start feeding themselves and their families easy, healthy meals one bite at a time.
Don't you wish somebody would just tell you where to start?
Well girlfriend, you're in luck – 'cause I will!
Because I know…
I get it…
I was you…
I am you -just a few short years ahead.
Over the past 9 years myself, my husband and our three kids have tried lots of diets and we have had lots of allergies – we've been through the ringer.
So come, take a seat, and let me help you sort out the good, the bad and the ugly of feeding your family easy, healthy food.
After nine years, three kids, multiple food allergies, a mother-in-law with cancer, countless elimination diets and multiple diagnoses, I started christinaneuner.com to breakdown healthy eating for you and take away the guess work in a simple, straightforward way.
One stop shopping for you to understand healthy eating without lots of rules and complicated recipes… I started this web site to help you, girlfriend!
So, I invite you to click on "Getting Started," and let's get to work! I'll have you eating healthier today!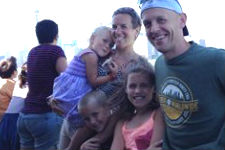 Wanna know more about me?
First and foremost, welcome to my online home – I love to have friends over to eat and drink and watch the kids run and play like wild – it gives me no greater joy. And this is where you are, here, in my digital house, and I am so happy you're here.
Christina Neuner is my fancy-pants, adult, married, mom name (although I am most commonly referred to as "So-and-so's mom", as many of us mama's are) – Really, I'm still curly-haired, chatty, little Chrissy Harder at heart. A Buffalo girl, born and raised. A loud and proud Bills fan currently living in Portland, Maine, in the heart of Patriots country (a tough gig, if you ask me).
My husband and I moved to Maine fifteen years ago for his work, and we vowed to move back to Buffalo when we had kids, but…we fell in love with the ocean, the green, the local food, the healthy attitude and the general awesomeness that is Portland (not to mention some amazing friends – you know who you are).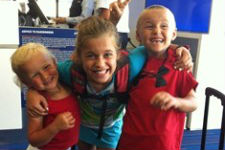 I am a mama to three kids: Molly, Max and Norah.
Molly was diagnosed with Celiac disease at eighteen months and was one sick little chicky! She later was diagnosed with mild dairy and egg allergies.
Max, my little man, was diagnosed with Celiac almost the same age as his big sis, and also has a mild cow's milk allergy. We spent 2 years doing some intensive biomedical, gut-healing diets with Max. That little man has come a long way!
And little Norah, or Nori as we call her for short, does not have Celiac (thank you, Universe!), but does have mild egg and cow's milk allergies. We have chosen to keep her away from gluten because you can develop Celiac disease at any stage in life.
I was diagnosed with ADD in college and luckily, through all of my research, I discovered that my ADD is simply an allergy to gluten and dairy.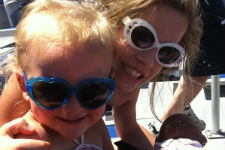 No gluten and no dairy = no ADD for mommy!
So, if you catch me stuffing my face with a full-on gluten & cow's milk pizza – watch out – because my stories are gunna get reeeeeeally long!
I am a marketer by trade (so I am forever messing with my website and branding!), who grew up in an entrepreneurial family, so I knew I would one day work for myself. -And I'm so glad you are here to be a part of it.
I chose to stay home after Max was born and have had a few work adventures since, but for the most part, until now, I have been a stay-at-home mama on a mission to heal my kids when no one else knew what the heck was wrong with them.
It's been a long-arse road and I have been exhausted, frustrated and wanted to quit many, many times. But, as we all know, when something is wrong with your baby and no one can tell you what it is, you turn into a crazy person trying to fix it!
For that reason, I have spent the past 9 years reading and learning about food and its effects on the body. I am not a nutritionist, or a doctor, but I do have a Ph.D. in "my child is sick and no one can tell me why" – and I earned every last letter in there!
Since then, I have continued to research food to help friends and family with new food issues and ailments (what feels like) daily. I also became an Alyssa Cohen Certified Raw food chef and am working on my health coaching certification in Transformational Nutrition.
So sit back, click around (I suggest starting here) and let me help you get healthy.
I love to make new friends, so leave a comment below and introduce yourself – I can't wait to meet you!
As they say, mama, "I think this is the beginning of a beautiful friendship…"