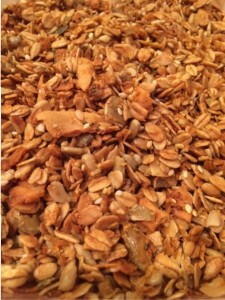 Gluten Free Granola
2015-10-30 09:19:36
Ingredients
3 cups gluten free rolled oats (NOT quick cooking)
1 cup sunflower seeds (chopped, if desired)
1 cup pepitas (pumpkin seeds), chopped
¾ cup shredded coconut
⅓ cup big coconut flakes
¼ cup sesame seeds
1 tbsp chia seeds (if desired)
⅓ cup Maple Syrup
⅓ cup Honey (substitute brown sugar if vegan)
¼ cup Coconut oil
1 tsp sea salt
2 tbsp vanilla
Instructions
1. Preheat oven to 250 degrees F.
2. In a large bowl combine all dry ingredients and stir to combine.
3. In a small pot, combine maple syrup, honey, coconut oil, sea salt and vanilla and heat until melted and combined.
4. Add wet ingredients and stir until evenly coated.
5. Pour granola onto two sheet pans.
6. Cook for 1 hour 15 minutes and stir every 15 minutes for even cooking.
7. Allow granola to cool and store in airtight containers.
Notes
You can substitute any of the seeds for the SAME quantity of any nuts or seed you prefer.
Remember to shake pans and rotate every 15 minutes (to cook evenly).
Christina Neuner https://www.christinaneuner.com/