My kids love bananas like nobody's business.
They eat them at home, in the car, at the beach, but they flat-out refuse to take them to school because the don't want them to get dented. Because, you know, once a banana has a brown spot it or it gets a mark from let's say a yogurt container in a lunch box, it becomes the devil's food and should never be eaten (ha, ha!).
Well, I found a way around it – Dehydrate them!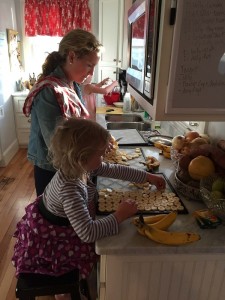 I simply slice the bananas into coins about ¼ inch thick and lay them in a single layer on a dehydrator tray for 8-10 hours at 112 fahrenheit (or as we do it at our house, until my kids feel they are the right balance of chewiness and crispiness).
I often wait until bananas go on sale and then buy a bunch and let them ripen until they are filled with speckles (and no child would ever eat them) before I dehydrate them. When bananas are speckled with brown is when they are actually at their peak ripeness and are the easiest for the body to digest. I also choose to dehydrate them at a low temperature, keeping them "raw" with all of their yummy vitamins and minerals intact.
I loooooove my 9 tray Excalibur dehydrator. It's big enough for my family of five and so easy to use. It's great for when produce (most fruits or veggies) are on their way out and you want to save them – just slice 'em up and dehydrate!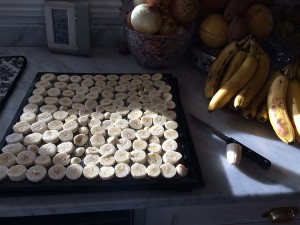 If you don't have a dehydrator, no worries, you can simply place them on parchment paper on a cookie sheet and cook on the lowest temperature in your oven (I have done them at 170 for 5ish hours). As with anything you "dehydrate" in the oven, remember to flip them half way through to evenly crisp up.
Once they are done simply place them in an airtight container and store them in the fridge (to maintain texture). I normally use 32oz wide mouth mason jars. We love wide mouth ball jars at our house. I literally have them everywhere and use them for everything!
Give 'em a try and let me know how you like 'em! I love learning from other mamas!
xo,