Did you really live this summer, or did you hide behind your post-baby body (even if your baby is
two years old)?
With summer sadly coming to an end, when you scroll through your photos on your phone, what do you see?
Do you see all of the great family memories? Do you see fun at the beach and at the park? Do you see baseball games and laughter?
I see all of the fun things that we have done as a family and when I see the pics from the trip to the lake; I have already forgotten the fights, the whining and the tears that usually occur with family trips. Only the good memories are left.
However just a few short years ago, I would have missed so many of these opportunities, because I was afraid. I was afraid to be me, afraid of what I would look like in a bathing suit, afraid of looking foolish or flabby or xyz. They were the times I should've, but I didn't. The times I should've swam with them at the pool, but didn't because I didn't want to get wet and mess up my hair or makeup. Because all of "those moms" always look perfect and put together and "those moms" never get in the water and god forbid that I actually break from the lead of "those moms." Or the time I opted out of having a stranger taking a picture of ALL of us on the beach because I didn't want to show my 3x post baby body… didn't want to show my cellulite… my matted beach hair, or my 'fill-in-the-blank."
The reality is I earned every ounce of that post baby body, and my kids won't remember what size I was, or if I had cellulite. They will remember that I played, that I was present, that I participated, that I laughed and tickled and giggled and threw them in the water – they will remember that I was there. Not that I had the perfect hair!
Last night we had dinner at the beach – a summer ritual at our house. As we got to my favorite beach, we realized that my husband had never been there at low tide, when you can walk out to the clam flats that go out for about a quarter of a mile. It's breathtaking, truly…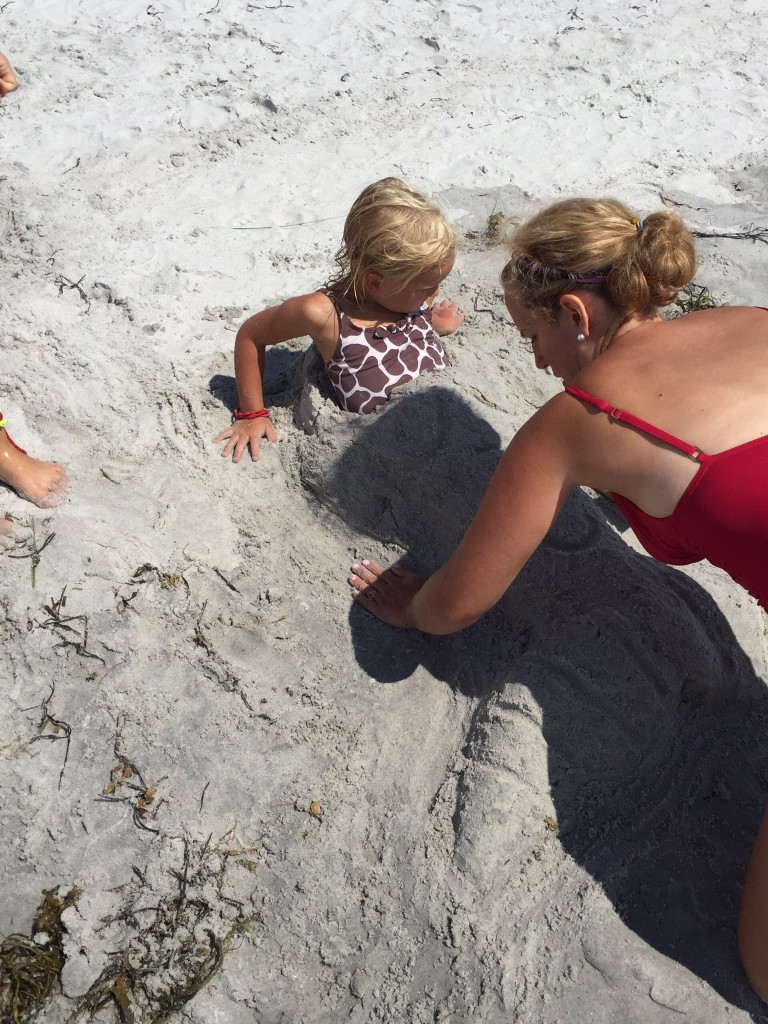 The kids and I go out there often searching for creatures, doing cartwheels, leaping across the crevices where water still resides, having races, and cartwheel contests.
As we started walking out, the kids demanded that we all take giant leaps and cartwheel, as is tradition on the clam flats.
I could have sat and been dry and calm and covered, but instead of sitting while they ran, being covered while they cartwheeled, worrying about dimpled thighs and jiggling skin, I chose to play. I jumped and smiled and giggled and ran and leapt and cartwheeled. I was part of it. Not sitting on the side watching the memory being made, I was right in the middle of it, creating it with them. My kids will forever remember me being part of it, part of them, rather than just the random bystander who sat on the sideline…
Perfect hair is highly overrated.
Click To Tweet
So I ask, were you a sideline mama this summer, or did you dive in?
There are only a few short days left, so I implore you (even if it's just to see the look on your kid's face), to get off the bench/chair/blanket and play this week. Do it – build that sandcastle, swim in the lake, take the plunge, go for that bike ride, play tag, color, hopscotch – or even cartwheel. Be a kid, play, run, jump, leap and hop. I promise you that you won't regret it and neither will your kids.
What was the thing that you were most excited about this summer? What was the thing that the kids were most excited about this summer? Or what was the thing that your kids begged you to do all summer but you never did? Why didn't you do it? Do you still have time to do it? Or will you spend the entire winter regretting your decision to have the perfect hair…
Perfect hair is highly overrated.
I believe in you mama and so do your kids.
What was your #justonething this summer? Lemme know in the comments below, I love learning from other mamas.
xo,